Leanna Brady
LMHC, NCC

I am a client-centered therapist with over 27 years' experience working with children, adolescents and adults. My Goal is to work WITH you to create a plan that feels like help. I strive to create a therapeutic space that is supportive and safe in order to foster growth and change. I am knowledgeable about the biological, emotional, relational and spiritual aspects of mental health and have both respect and compassion for the complexity of these factors in your life. As a therapist, I am interested in gaining an understanding of your unique needs and developing a plan together. Work with a wide range of concerns including anxiety, trauma, depression, relationship issues, eating disorders.
Claudia Magnusson
MS, LMHC

I am a Licensed Mental Health Counselor and my therapy approach can best be described as eclectic. This means I draw on a number of theories and methods depending on the issue(s) a client brings to therapy. What is central to the process is my commitment to the client's well-being and growth. I see therapy as a process and a partnership, and my goal is to be an effective advocate and support for my clients.
También puedo atenderte en español
Meagan Hruska
LMHC

Meagan Hruska is a Licensed Mental Health Counselor (LMHC) in the state of Iowa. Meagan obtained her Bachelor of Arts in Forensic Psychology at St. Ambrose University in Davenport, Iowa, and her Master of Science in Clinical Psychology at Francis Marion University in Florence, South Carolina.

Christine Addison
Counselor, MA, LMFT
Now accepting New Clients! Christine obtained her Master's Degree from Colorado State University. She is a licensed Marriage and Family Therapist. Chris has been a practicing therapy for 25 years. She works with children and their families, adults, adolescents and couples. She has comprehensive expertise in many fields, namely; issues of depression and anxiety, trauma, and stress. She is a compassionate and a strong advocate for her clients. She utilizes an eclectic theoretical approach that is evidenced based and individualized for each person and situation.
Read More
Cait Silveira
LMHC

Now accepting new patients! I am a Licensed Mental Health Counselor (LMHC) with nearly 10 years of experience working with adults, teenagers, and couples. I have worked with clients with a wide range of concerns including depression, anxiety, relationship issues, trauma and PTSD, LGBTQ+ issues, transitional and phase of life issues, career challenges, self-esteem related concerns and eating disorders.
Carol Johnson
LMHC
Carol is a Licensed Mental Health Counselor in the state of Iowa and a Nationally Certified Counselor. She specializes in cognitive behavior therapy and believes in building a strong therapeutic alliance with her clients. Carol has knowledge and experience working with children, adolescents, adults, couples, and families from diverse populations.
Madi Ogle
Hello! I'm Madi, an Ankeny native, mom of two beautiful little girls. I have a passion for helping people, I have a background on the medical side of health care along with the holistic side of medicine. I am so glad to be apart of this team, and excited to help with anything in your process.
Read More
Randy Brady
Marketing and Public Relations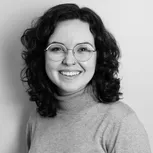 Taryn Pepping
t-LMHC, ATR-P
515-954-9865
[email protected]
*Now accepting new clients in Ankeny!* I'm Taryn, a provisionally licensed Mental Health Counselor with a specialization in Art Therapy. I take a collaborative, client-centered approach to counseling, and like to encourage artmaking in session. Creating in session is not a requirement. However, using art materials in therapy offers a chance to actively process what we talk about, and engages the brain and body in our therapeutic work.
Read More
Tasha Whye
LMFT, Ph.D
[email protected]
Tasha Whye is a licensed marriage and family therapist in Iowa and Washington State. Tasha holds a Master of Arts degree in marriage and family therapy and her Ph.D in psychology. She is a clinical member of the American Association of Marriage and Family Therapy. Tasha's experience includes both inpatient and outpatient treatment working with adults, adolescents, couples, and families.
Read More
Brandi Munch
* Now accepting new clients! * I believe that everyone deserves the space to be heard and I am passionate about providing this space to others. I offer a holistic perspective due to my background in yoga and massage therapy. My approach is eclectic and I interweave mindfulness, EMDR, and CBT, while offering trauma-informed care, strength-building, and unconditional positive regard throughout.
Read More
Adriane Sankey Tiedens
LISW

* Now accepting new clients! * I am a Licensed Independent Social Worker (LISW) with over 23 years of experience who graduated from Iowa State University with my Bachelor of Science degree in Psychology and from Loyola University in Chicago with my Master's degree in Social Work.
Jana Rogness
LMHC, CADC

* Now accepting new clients! * I am a Licensed Mental Health Counselor (LMHC) and Certified Drug and Alcohol Counselor (CADC). I strive to support clients with creative, individualized, and evidence-based techniques to inspire growth and well-being.
Ashley Brockman
t-LMHC

Now accepting new clients! Ashley has extensive experience with children, adolescents, and their families, as well as experience in counseling adults ages ranging from 18-35. She is a personable, committed therapist who utilizes a solution-focused approach with an emphasis in both emotion-focused and schema therapies. She strives to create an environment that is playful, comfortable, and supportive to client success and growth. She works with a wide range of concerns including anxiety, depression, parent-child relationships, grief, stress, self-esteem, and transitional life issues.